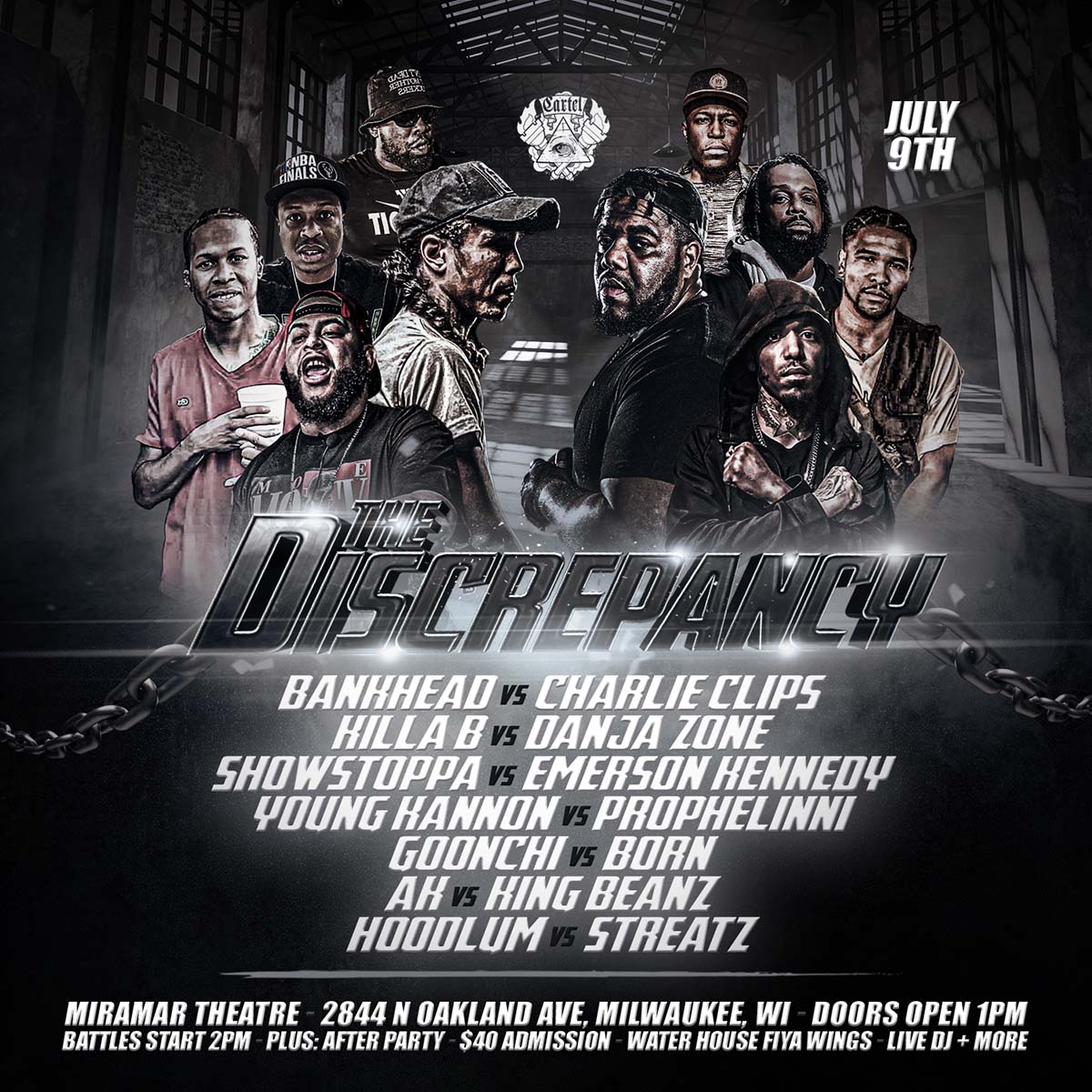 The Discrepancy – Battle Rap Event & After Party
Come witness the best battle rap event of the summer, "The Discrepancy" – a stacked battle rap card & after party brought to you by Black Ice Cartel!
Get ready for 7 highly anticipated battles between some of the industry's most clever pens!
Where: The Mirimar Theater in Milwaukee, WI (2844 N. Oakland Ave. Milwaukee, WI 53202)
When: Sunday, July 9th, 2023. Doors open at 1pm, Event starts at 2pm.
Who: It's going to be a tough decision between bars and performance for these headline battles! The top of the battle card features battle rap vet, Charlie Clips taking on Cartel's own Bankhead, one of battle rap's rising stars. Charlie Clips, as seen on MTV's Wild N Out, has battled on the Cartel stage a few times, but makes his long awaited return VS one of Cartel's top hitters: Bankhead for a crazy 3 round battle of wordplay and performance.
In another headline battle, Danja Zone returns back home to the Cartel stage to battle Killa B, one of Cartel's longest standing members and most dangerous pens. This battle will be bar-heavy with intricate punchlines and schemes.
The rest of the battle card is stacked with incredible talent, including Chicago's own Young Kannon taking on the animated up and coming battle rapper, Prophellini. Expect high-energy performances and incredible bars from both of these talented artists. Showstoppa and Emerson Kennedy are both rappers with something to prove, and their battle is sure to be a showstopper with a clash of styles and bars. Goonchi, an up and coming favorite in Milwaukee, will be testing the veteran pen of Born as he returns to Milwaukee for another word bending & iconic performance like he's had previously on Cartel. The card rounds out with two more battles and a musical performance by Caseload Drell that will stoke the flames of an already fire event. With AK VS King Beanz & Streatz VS Hoodlum on the card, you can count on some energetic, well written, and disrespectful bars.

AFTER PARTY TO FOLLOW
Be in the building to decide the winners!
Don't miss your chance to witness these battles live! General Admission tickets are only $40 online and at the door. Come out and support these talented artists as they battle it out for the title of champion. We can't wait to see you there!
*Must be 18+ to attend*