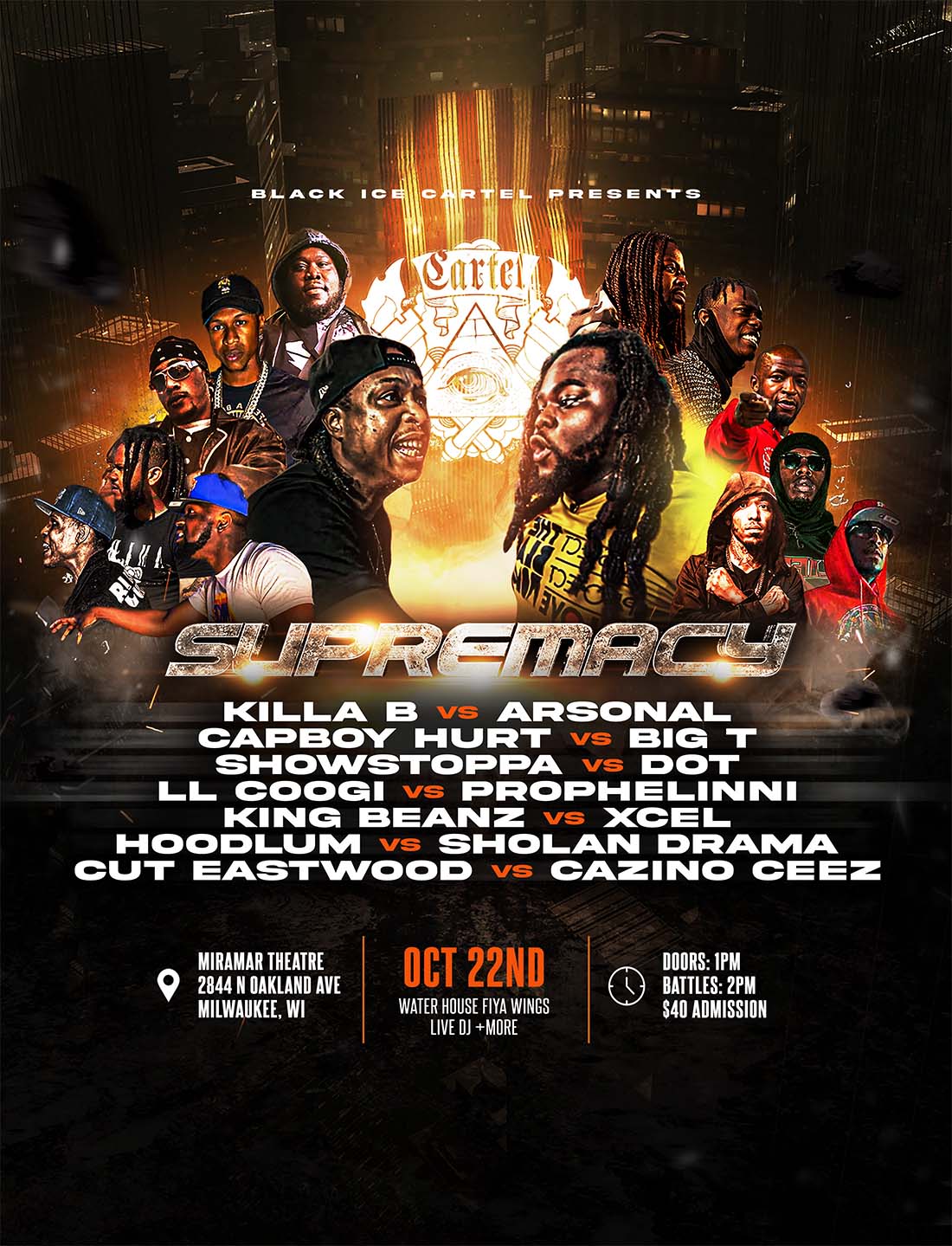 Supremacy – Live Battle Rap Event
Black Ice Cartel Presents: Supremacy – Live Battle Rap Event
Join Black Ice herself & The Cartel for an epic afternoon of entertaining rap battles at the Supremacy event, brought to you by Black Ice Cartel Battle League. Each matchup was hand picked and put together while keeping the different styles, performances & personalities of the performers in mind!
Get ready to witness the most intense, electrifying, disrespectful, & impressive showdowns as talented wordsmiths go head-to-head, battling it out for Supremacy!
Date: Sunday October 22nd, 2023
Time: Doors open @ 1pm, Battles start promptly @ 2pm CST – Don't miss the show trying to show up fashionably late.
Location: The Miramar Theater 2844 North Oakland Avenue, Milwaukee, WI 53211
Prepare to be captivated by the raw energy and lyrical prowess of the battle rap scene. This in-person event promises an unforgettable experience, filled with intense rhymes, clever wordplay, and jaw-dropping performances. Whether you're a die-hard fan or new to the rap battle world, Supremacy guarantees an afternoon of non-stop excitement and entertainment.
Mark your calendars & don't miss out on this explosive event. Join us at The Miramar Theater in Milwaukee, WI and be part of something special at Black Ice Cartel's Supremacy Event. Come witness the Supremacy of The Cartel first hand.
Attendees must be 18+ to attend.
The Match Ups:
Killa B VS Arsonal Da Rebel – Cartel's own Killa B will be facing off against battle rap's bully, Arsonal Da Rebel, who's making his way back to the Cartel stage after creating a classic during his 1st Cartel performance VS Qleen Paper.
Capboy Hurt VS Big T – Cartel's Capboy Hurt returns to the Cartel main stage after some time off behind the scenes to defend his home turf VS another Midwest heavyweight and no stranger to The Cartel, Big T! Prepare for word play, bars and jokes with this match up.
Prophelinni VS LL Coogi – Cartel's newest member, Prophelinni, defends his new home stage VS one of Milwaukee's top battlers, LL Coogi. This match up is gonna be a close back and forth with innovative word play and animated performances from both sides.
King Beanz VS Xcel – Cartel's King Beanz makes the trip from Louisville to Milwaukee for another Cartel card to face off against Xcel, another battler who is no stranger to The Cartel.
Hoodlum VS Sholan Drama – This Milwaukee VS Milwaukee matchup isn't one to be slept on! Both of these well rounded performers are prepared to put on a crazy battle for The Cartel stage & camera.
Cut Eastwood VS Cazino Ceez – Cartel held a Twitter Spaces battle tournament and both of these talented rappers out performed the rest of the contestants to secure a spot on Cartel's Supremacy card!
Who will win these matchups? Get your tickets and experience the electrifying energy in person at Black Ice Cartel's Supremacy Event!
FAQ
1. Are there refunds?
Unfortunately, there are no refunds for ticket purchases even if you're unable to attend the event. Please double check the date before purchasing your ticket! We appreciate your support!
2. What time do the battles start?
Doors open for this event at 1pm CST. Battles will start PROMPTLY and ON TIME at 2pm CST. Don't miss these battles trying to be fashionably late.
3. Is there parking?
There is limited street parking in front of the venue and there is no lot parking.
4. Will there be food?
Wings by Water will be catering the event.
5. Is this a BYOB event?
No, this event is not BYOB. There is a bar inside the venue for your convenience.
6. Is there re-entry?
There is no re-entry for this event. Once you leave you cannot come back in for any reason.